We are PLEASED to announce that the Job Market Pulse, our open source data poolcombining helpful salary information for all allied rehab therapy professions, goes live on August 1st, 2018. This data set covers all 50 states, all specialties, is sorted by job type, normalized for per annum equivalents, with raw data forms available for free download (which is ZIP CODE specific and sortable by full time vs. part time vs. travel categories); and, has begun to exhibit a presence of influence in Occupational Therapy and Speech Therapy — to which we are most appreciative.
---
IF YOU'VE EVER WONDERED WHAT NORMAL PAY IS FOR YOUR SETTING, SPECIALTY, REGION, ETC… THE JOB MARKET PULSE HAS IT ALL FOR YOU… THOUSANDS OF DATA POINTS, TRENDED, ANALYZED, FREE & AVAILABLE FOR DOWNLOAD.
There's really not much more to say other than…
SIGN UP to receive this report!
---
---
Is the form above not working? No worries… click on the button, below:
Click HERE To Sign Up For The Report
Do you have timely job market data to contribute?
CLICK HERE to Contribute to the PULSE
---
PSSST! Sneak Peak ↴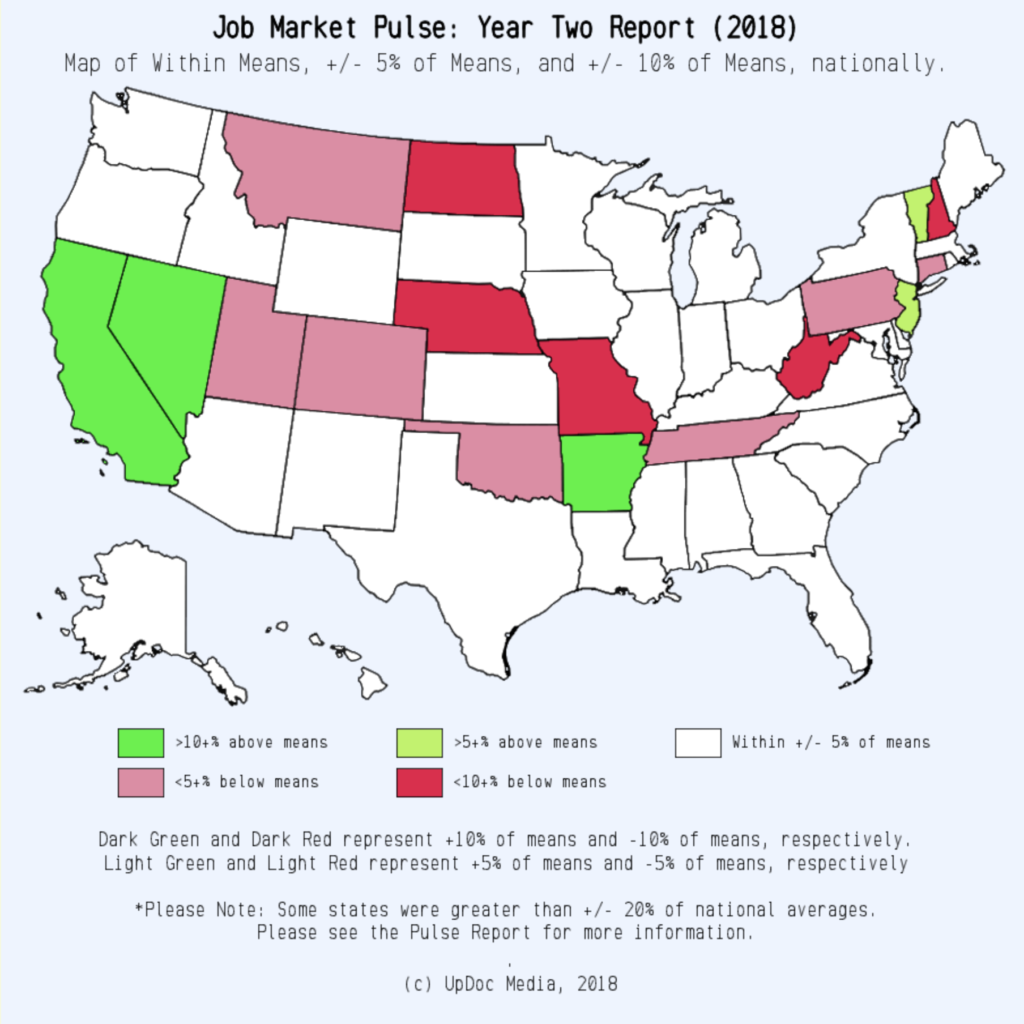 Ever wonder who the top paying and bottom paying states are??? Here's your top and bottom 3.
AK, CA, NV & NE, ND, WV for PTs
NM, CT, CO & IN, DC, WV for PTAs
But, what about everyone in between? It's all in the Year Two report — exclusively for UpDoc Media subscribers!
Want to learn in person? Attend a #manualtherapyparty! Check out our course calendar below!
Learn more online!
Want an approach that enhances your existing evaluation and treatment? No commercial model gives you THE answer. You need an approach that blends the modern with the old school. Live cases, webinars, lectures, Q&A, hundreds of techniques and more! Check out
Modern Manual Therapy!
Keeping it Eclectic...