Snapchat. It's a thing. How big of a thing? Well… take a look:
Without going into too much detail, Snapchat is a visual-media-text-based social platform where most of the content disappears after a couple seconds, or, after 24 hours if it is shared to one's "Story." Stories are a unique place for Snapchat users to publicly share content that will expire within 24 hours… kind of a journaling of the day for all to see. Meanwhile, other snaps are private and sent only to those who users wish to see. It's highly millennial and tremendously raw in nature.
Now, I like to think myself to be fairly social media savvy. To this, I've noticed that out of all my outlets, my Snapchat followers (while many overlap with other platforms) have the highest level of daily engagement. I may have thousands of followers on Twitter; but, the percentage of my Snapchat followers are overwhelmingly more engaged. For this reason, my current Facebook page & Twitter profiles both have my snapcode as my headshot: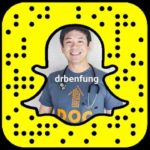 So… you could say I'm pretty much convinced. And, I hope you are, too! Or, at the very least, getting close. So, without further ado… let's get to…!!!
---
5 CREATIVE WAYS YOUR CLINIC SHOULD BE USING SNAPCHAT
1. Morning Moments/Musings…etc. etc. etc.
Morning is a fun time when we are truly ourselves. Morning people, well… they are UP! Not-so-morning folks… hahahaha… yeah. So why "the morning?" It's a time of vulnerability. When people are vulnerable, they are real. It means they aren't hiding behind a mask, an act, or role. They are being them.
"Only in the morning…"
For your clinic: Before you open doors for business, it's a great time for your Snapchat audience to get to know your team! Share a morning moment and/or coffee. Snap some videos of your crew getting ready for the day. Take a silly selfie as a team to open the day strong. Moments, musings, ideas, candid clips… anything! Get creative, and, share share share!
2. Move/Exercise/"Blank" of the Day.
We have a unique opportunity in Physical Therapy to leverage this digital marketing channel in a way many businesses could never do. We ALWAYS have something new and interesting in the clinic. It's because we treat people, uniquely. Therefore, there's always going to be a fresh exercise, stretch, movement pattern, manual technique (with a media release consent, of course!), case, or whatever fill-in-the-blank you wish to share. And, that's exciting for any audience. Your current patients may very well be watching you; getting inspired to get to their exercises & show up on time. Your prospective customer may… haha, WILL, be converted to a future patient because they see how you are in person… better than any current social media platform.
3. Storied Testimonials.
Snapchat recently released a new feature called
"Memories."
Memories is Snapchat's way of creating longevity to a platform who's beauty is found in the ephemeral. However, this is a nice change since things can now be documented via the Snapchat platform, without having to download one's story and transpose it to another more permanent share.
For this reason, testimonials will become very interesting. You don't have to save all your testimonial stories to memories. You can pick and choose the best ones. And, if you don't like something after a while, you can always take it down. The best thing about storied testimonials is: the people you want most to see it, will.
4. Cross Channel Contests.
Since Snapchat is a bit of a closed loop, and, has yet to create an innate user finding feature… it's a good idea to share or share of unique snaps to your other social platforms. One great way of incentivizing user engagement is the offering of contests.
I mean… who doesn't like winning stuff?!
Whatever you wish to offer, make it fun, creative, unique… all in the spirit of Snapchat's user experience. As stickers, drawings, filters, and making of funny faces is a daily (if not hourly) thing for Snapchat users, why not join them in the game and joy of it all? Besides, what better way to communicate that you're part of the movement, part of the culture, part of the crew… than by speaking their language?
5. 24 Hour Specials.
Since we're on the topic of contests, take advantage of the fleeting nature of your Snapchat story. Being that stories last only 24 hours from the time of posting, offer something unique for that day and that day only. Make it beyond a cross channel promotion. It's a way of rewarding your loyal Snapchat followers; believe me when I say they will very much appreciate it. Also, cleverly share about the special, who won, what they got, etc. etc. etc. the day or so after… feeding the fires of
#FOMO
, just that much more. AND, inciting your other platform followers to be sure and check out your snaps, next time
Interested in live cases where I apply this approach and integrate it with pain science, manual therapy, repeated motions, IASTM, with emphasis on patient education? Check out
Modern Manual Therapy!
Keeping it Eclectic...