"People love transparency"
"It's creating the life you want"
"Short term sacrifices for long term gains"
Therapy Insiders is proud to be sponsored by Ascend Business Summit!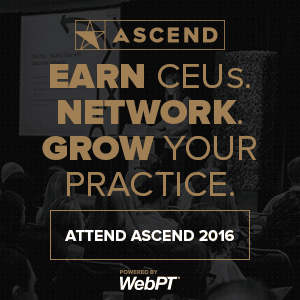 We at UpDoc Media and Therapy Insiders podcasts are big fans of business. We live it, learn and teach it. One thing all business has in common, is people and relationships. One of the best way to grow relationships and meet new, like-minded people is at business conferences. One of our favorites is
Ascend Business Summit
. This year our very own Dr. Gene Shirokobrod and Dr. Ben Fung will be presenting!! Don't miss an incredible networking and educational opportunity that is Ascend Business Summit. Oh, as a bonus for being an awesome Therapy Insiders listener, make sure to enter code "Therapyinsiders" at check out for $100 each ticket! Get your tickets now!! See you in Texas on September 9th and 10th.
TRACY SHER, MPT, CSCS - Owner of Sher Pelvic Health and Healing
Tracy Sher, MPT, CSCS is an orthopedic and pelvic physical therapist, faculty member, consultant, international speaker, founder of Pelvic Guru and a leading authority in the field. Since 2000, she has successfully started or helped expand hospital-based women's health/pelvic physical therapy programs. She also currently teaches courses nationally (and internationally) as a faculty member for Herman and Wallace Pelvic Rehabilitation Institute. Tracy has a passion for treating complex pelvic pain, sexual pain, and pudendal neuralgia. She is also very committed to improving women's health care across the lifespan - pregnancy, postpartum,and beyond. The focus for the patient is integrating a whole body approach.
In previous hospital-based roles, she has regularly worked with world-renowned specialized programs such as Complex Abdominal and Pelvic Pain Program, pudendal nerve surgeons (nationally and internationally), Dr. Lamvu's Vulvar Pain Clinic, and Global Robotics Institute. She presented lectures to OB/GYN's for Grand Rounds and GYN, Family Health, Colorectal Residents and Fellows, Urology- Prostate Surgery Teams and the Endometriosis groups. She developed a GYN Family Resident Pelvic PT observation program. She has also been part of a unique inpatient on-call program after childbirth on the OB/GYN unit.
* Former Board of Directors - International Pelvic Pain Society
* Founder of Pelvic Guru™
* MuTu Systems ™ Medical Advisor
* International Pelvic Health Faculty and Speaker - Topics:
Pudendal Neuralgia and Complex Pelvic Pain
Pelvic Floor Level 1 (Urinary, Bowel, Pelvic Floor, Prolapse),
Mentoring Courses for Clinical Skills -Pelvic PT Boot Camp
Sexual Health

Bachelor of Arts - Emory University in Atlanta, GA. - Pre-Medical, Psychology/Neuropsychology
Master of Physical Therapy - Northwestern University -The Feinberg School of Medicine in Chicago, IL
*Award for Clinical Excellence
Courses/Certifications:
*Completed all levels of the CAPA Pelvic Floor Certification Series courses through
Herman and Wallace Pelvic Rehab Institute.
*Completed all levels of the APTA Section on Women's Health Pelvic Floor Series and lab assisted PF1 and PF2.
SOWH Courses
*Certified Strength and Conditioning Specialist Certification (CSCS), NSCA
*Sexual Counseling Certification, AASECT (in process)

Completed numerous Women's Health/Urology/GYN/Pelvic/Orthopedic courses: Male Pelvic Floor, Visceral Mobilization- Urinary/Bowel and Reproductive/Fertility, Osteoporosis, Pudendal Neuralgia, Manual Orthopedic/Sacroiliac, Manual Treatment for Spine, Strain-Counterstrain, Pelvic Floor Biofeedback, Bowel.
Interested in live cases where I apply this approach and integrate it with pain science, manual therapy, repeated motions, IASTM, with emphasis on patient education? Check out
Modern Manual Therapy!
Keeping it Eclectic...